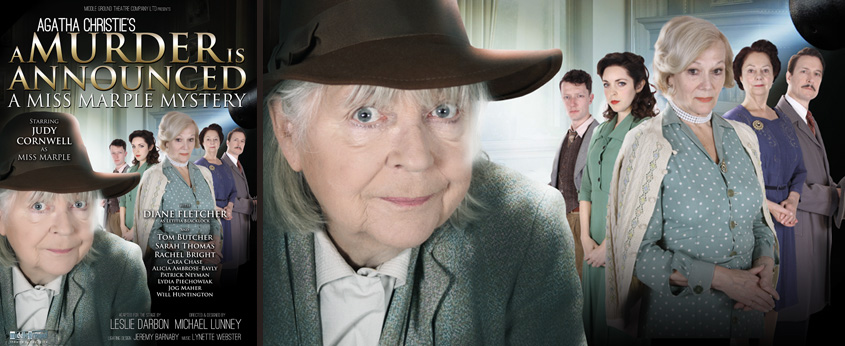 —–
by Agatha Christie 
Adapted for the Stage by Leslie Darbon
Designed and directed by Michael Lunney
STAR CAST FOR 2017 TO BE ANNOUNCED.
The 2015/16 tour starred JUDY CORNWELL as MISS MARPLE and DIANE FLETCHER as LETITIA BLACKLOCK, with TOM BUTCHER, SARAH THOMAS, RACHEL BRIGHT, DEAN SMITH, CARA CHASE, ALICIA AMBROSE-BAYLY, PATRICK NEYMAN, LYDIA PIECHOWIAK, JOG MAHER and WILL HUNTINGTON. 

"A murder is announced and will take place on Friday, October the thirteenth, at little Paddocks – at six-thirty p.m."
The residents of Chipping Cleghorn are astonished to read an advert in the local newspaper that a murder will take place this coming Friday at Little Paddocks, the home of Letitia Blacklock.
Unable to resist, the group gather at the house at the appointed time, when the lights go out and a gun is fired. Enter Miss Marple, who must unravel a complex series of relationships and events to solve the mystery of the killer…
Both Judy Cornwell and Diane Fletcher have distinguished careers spanning over 50 years on both stage and screen. Judy Cornwell is probably best known for her much loved portrayal of Daisy in the hugely successful TV sit-com Keeping Up Appearances, while Diane Fletcher is forever immortalised as Elizabeth Urquhart, wife of the murderous chief whip Ian Richardson in House Of Cards.   They were joined by Tom Butcher (PC Steve Loxton in The Bill and Dr Marc Elliott in Doctors), Sarah Thomas, who played Glenda Wilkinson in Last Of The Summer Wine for 24 years, Rachel Bright (Eastenders' Poppy Meadow), and Dean Smith (Waterloo Road / Last Tango In Halifax).