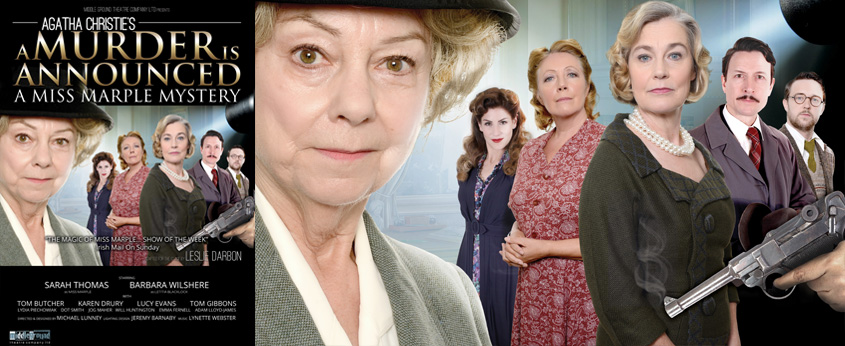 —–
A Murder Is Announced by Agatha Christie 
Adapted for the Stage by Leslie Darbon
Designed and directed by Michael Lunney
Starring SARAH THOMAS as MISS MARPLE and BARBARA WILSHERE as LETITIA BLACKLOCK, with TOM BUTCHER, KAREN DRURY,  LUCY EVANS, TOM GIBBONS, LYDIA PIECHOWIAK, DOT SMITH, JOG MAHER, WILL HUNTINGTON and EMMA FERNELL. 

"A murder is announced and will take place on Friday, October the thirteenth, at little Paddocks – at six-thirty p.m."
The residents of Chipping Cleghorn are astonished to read an advert in the local newspaper that a murder will take place this coming Friday at Little Paddocks, the home of Letitia Blacklock.
Unable to resist, the group gather at the house at the appointed time, when the lights go out and a gun is fired. Enter Miss Marple, who must unravel a complex series of relationships and events to solve the mystery of the killer…
Sarah Thomas is best known for her 24 years playing Glenda Wilkinson in Last Of The Summer Wine, while Barbara Wilshere is recognised for her long-running roles in The Lakes and The Paradise Club. They are joined by Tom Butcher (PC Steve Loxton in The Bill and Dr Marc Elliott in Doctors), Karen Drury (Susannah Farnham in Brookside), Lucy Evans (Lauren Wilson in Coronation Street), Tom Gibbons (Johnny Phillips in The Archers) and a full supporting cast.