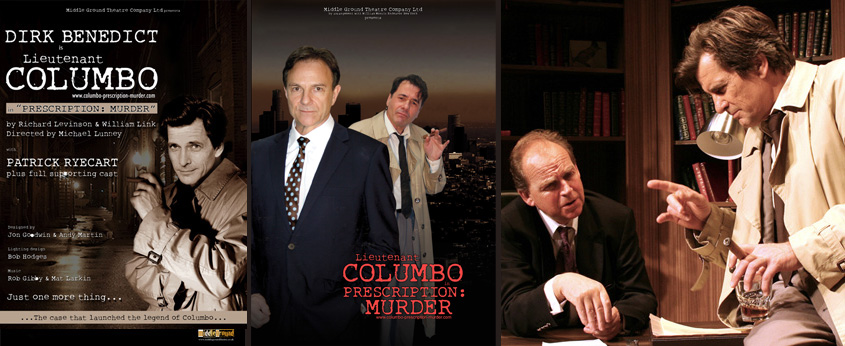 —–
By Richard Levinson & William Link
Directed by Michael Lunney
Music by Rob Gibby & Mat Larkin
Lighting Design by Bob Hodges

"Just one more thing…"
Middle Ground Theatre Company presents PRESCRIPTION: MURDER, featuring the legendary Lieutenant Columbo in his first ever case.
The 2010 tour of Columbo saw Dirk Benedict star as Lieutenant Columbo. The role was played by John Guerrasio in 2011.
Psychiatrist Roy Fleming and his wife are celebrating their anniversary when he is called to deal with a female patient. On returning he has to soothe his angry wife with the promise of a vacation. When Fleming's wife is found dead, Columbo is brought in to investigate and seeds of doubt are planted in his mind…
In this, Columbo's first ever outing, we see the genius of the character made famous by Peter Falk as he pits his wits against a master criminal.
International star Dirk Benedict is known by millions for his roles as Templeton "Faceman" Peck in The A-Team and Lieutenant Starbuck in "Battlestar Galactica". He was joined by acclaimed British actor Patrick Ryecart (films include include Michael Winner's "Parting Shots", Ken Russell's "Prisoner of Honour") plus Brookside's Karen Drury and a full supporting cast.
The second tour saw John Guerrasio don the crumpled mac of Columbo. He was joined by Brian Capron (Coronation Street), Alexandra Boyd (Emmerdale), Richard Walsh (London's Burning) plus a full supporting cast.
The shows also starred Elizabeth Lowe, George Telfer, Karren Winchester, Kasper Michaels and Michael Shane.
This is the first time Columbo has ever toured the UK in a theatre production and was one of the must-see productions of 2010/11.