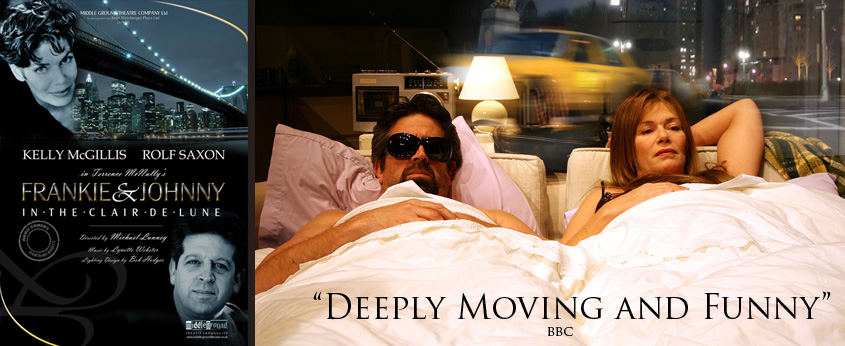 —–
Starring KELLY McGILLIS & ROLF SAXON
Directed & Designed by Michael Lunney
Music by Lynette Webster
Lighting Design by Bob Hodges
Middle Ground Theatre Company proudly presents a lavish new production of Terrence McNally's classic love story, set in 1980's New York.
Hard-boiled waitress Frankie and cock-sure chef Johnny find them- selves in bed together after a first date. Johnny is certain he has found his soul mate, but Frankie is far more cautious and less inclined to jump to conclusions. As the night unfolds, they slowly begin to reveal themselves to each other as they take tentative steps towards the start of a possible relationship in this funny and tender romantic comedy. Originally an Off-Broadway hit, the production also spawned a film version starring Al Pacino and Michelle Pfeiffer.
International Hollywood star Kelly McGillis is known for box office film smashes including "Witness" with Harrison Ford, for which she received a golden globe nomination, "The Accused" with Jodie Foster, and of course the biggest box office film of 1986 – "Top Gun" with Tom Cruise. Her many stage appearances include Sir Peter Hall's "A Midsummer Night's Dream" and "Hedda Gabler" on Broadway. Rolf Saxon's many films include "Mission:Impossible" and "Entrapment". His West-End roles include Billy Flynn in "Chicago", "Laughter on the 23rd Floor" with Gene Wilder, and "The Seven Year Itch" opposite Darryl Hannah.