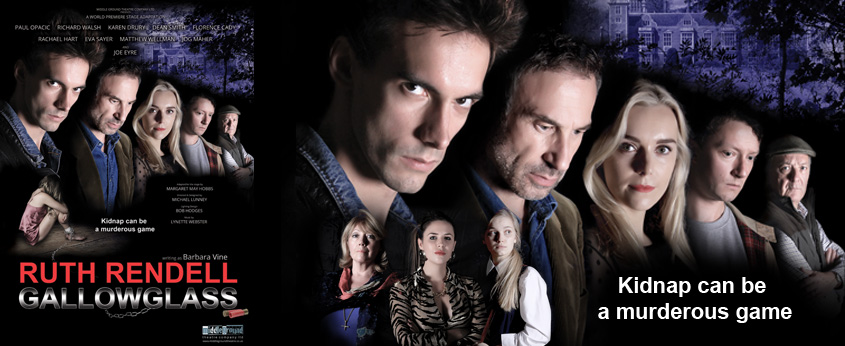 —–

Gallowglass By Ruth Rendell (writing as Barbara Vine)
Adapted by Margaret May Hobbs
Directed & designed by Michael Lunney
Starring PAUL OPACIC, RICHARD WALSH, KAREN DRURY, DEAN SMITH, FLORENCE CADY,  RACHAEL HART, EVA SAYER, MATTHEW WELLMAN, JOG MAHER and JOE EYRE.
A world stage premiere.
PLEASE NOTE THIS SHOW HAS NOW FINISHED ITS SPRING 2018 UK TOUR.
When Sandor snatched little Joe from the path of a London tube train, he was quick to make clear the terms of the rescue. "I saved your life", he told the homeless youngster, "so your life belongs to me now".
Sandor began to tell him a fairy tale: an aging prince, a kidnapped princess chained by one ankle, a missed rendezvous… But what did this mysterious story have to do with Sandor? Joe only understood his own role – he was a Gallowglass, the servant of a chief…

Starring Paul Opacic (Bad Girls/Emmerdale/Hollyoaks), Richard Walsh (London's Burning), Karen Drury (Brookside), Dean Smith (Last Tango in Halifax/Waterloo Road), Florence Cady (Crucible of the Vampire), Rachael Hart (Apple Tree House), Eva Sayer (The Turn Of The Screw), Matthew Wellman, Jog Maher and introducing Joe Eyre as Sandor.
Praise for GALLOWGLASS
"Marvellously gripping….tense, compulsive and beautifully written" Sunday Express
"Gallowglass is RUTH RENDELL (Barbara Vine) at her best….it is compulsive reading; an unsettling narrative that casts eerie shadows into the unknown" Woman's Journal
"Beautifully composed RUTH RENDELL writing as Barbara Vine has cast her fertile imagination into the realm of the fairy-tale, and come up with a present-day parallel encompassing obsession, delinquency and romance" The Times Literary Supplement
" A real valentine from hell" Time Out