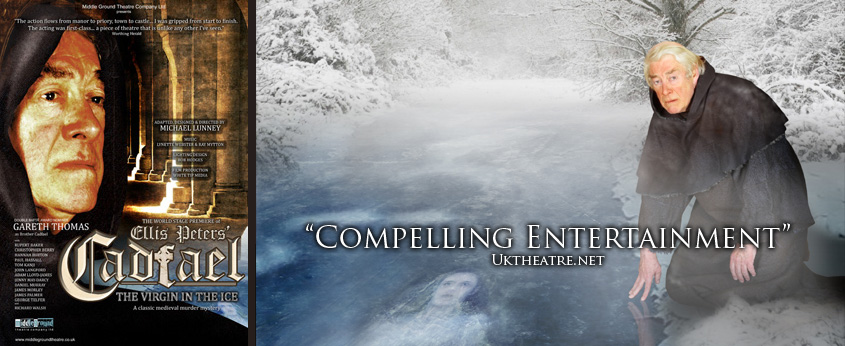 —–
Starring Gareth Thomas, Richard Walsh, Rupert Baker, Peter Ellis, Stephen Beckett – a full cast of 15.

In 2013 Middle Ground Theatre Company proudly presented the world premiere stage adaptation of Ellis Peters' famous medieval sleuth CADFAEL: The Virgin In The Ice.
It is winter 1139 and raging civil war has sent many refugees fleeing north from Worcester, among them an orphaned boy, his beautiful 17 year old sister, and a young nun. But they seem to have disappeared somewhere in the wild winter landscape of frost and snow – and Brother Cadfael embarks on a dangerous quest to find them…The search will lead him to discover a chilling and terrible murder, and a tale of passion gone astray.
Ellis Peters' Cadfael novels sold millions of copies globally, and this World Stage Première celebrates the centenary of her birth. Gareth Thomas (Blake's 7) and Richard Walsh (best known for his 15 years as Albert 'Sicknote' Quigley on ITV's London's Burning), led a quality cast of fifteen, including Peter Ellis (18 years on The Bill ), Stephen Beckett (Coronation Street/The Bill) and Rupert Baker (London's Burning).