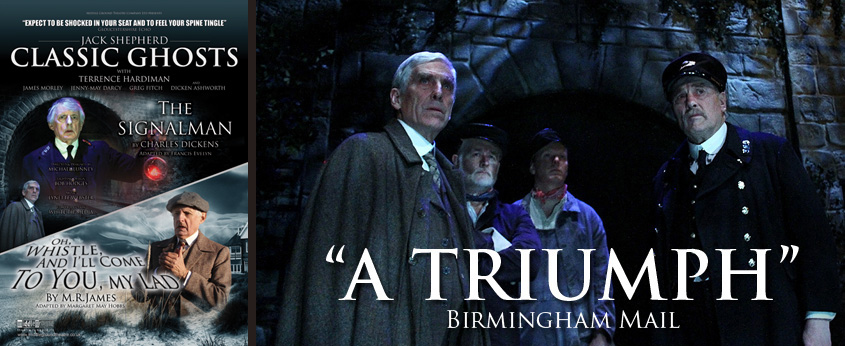 —–
THE SIGNALMAN, OH WHISTLE AND I'LL COME TO YOU MY LAD and THE WAITING ROOM
Starring JACK SHEPHERD, TERRENCE HARDIMAN, DICKEN ASHWORTH
with James Morley, Jenny-May Darcy and Greg Fitch.

PLEASE NOTE THAT THIS PRODUCTION HAS NOW FINISHED TOURING.
Middle Ground Theatre Company proudly presents a lavish new production of two spine-chilling masterpieces.
The Signalman By Charles Dickens
Adapted by Francis Evelyn
Designed & directed by Michael Lunney
Dickens' exquisitely unnerving tale of a tormented signalman who is haunted by visions of impending disaster on his isolated stretch of line. Can a well meaning traveller, who chances upon the lonely signal box while out walking, calm the man's fears before he spirals into self destruction…?
Oh, Whistle, and I'll Come To You, My Lad  By M.R.James
Adapted by Margaret May Hobbs
Designed & directed by Michael Lunney
M.R. James was a master teller of the creepy ghost story. This is the story of Professor Parker, a Cambridge academic on an out of season holiday at a bleak English east coast faded hotel. At an old graveyard near a deserted beach he finds an old bone whistle. On cleaning it, he discovers the inscription: "Quis est iste qui venit" ("Who is this who is coming?"). Blowing the whistle he awakens a disturbing supernatural force. A terrifying ordeal follows and though his scepticism tries to dismiss his unearthly encounters, his eyes and ears cannot …
Award-winning veteran actor Jack Shepherd has a long and distinguished career in film, television and on stage. His awards include a Laurence Olivier Theatre Award, a Plays and Players London Critics' Award, and a Time Out Award. He is probably best known for his portrayal of Detective Superintendent Charles Wycliffe in the television series Wycliffe. He is joined by Terrence Hardiman (The Demon Headmaster/Cadfael), Dicken Ashworth (Coronation Street/Emmerdale), James Morley, Jenny-May Darcy and Greg Fitch.

VIDEO TRAILERS