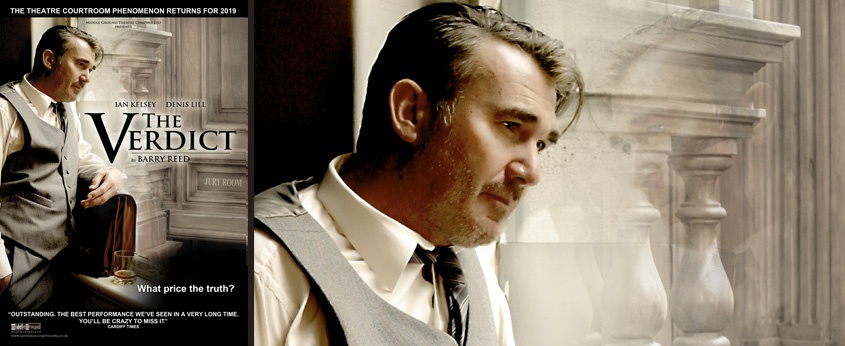 —–

The Verdict By Barry Reed
Directed and designed by Michael Lunney.  Adapted by Margaret May Hobbs.
STARRING IAN KELSEY, DENIS LILL, PAUL OPACIC, CHRISTOPHER ETTRIDGE, RICHARD WALSH and KAREN DRURY. 
The Powerful Bestselling Courtroom Thriller that inspired a multi Academy Award-Nominated film.
Frank Galvin is a washed up veteran lawyer and an alcoholic. He is presented with one last chance to redeem himself when he is given an open-and-shut medical malpractice case that no one thinks he can win. Up against the unforgiving medical establishment, he courageously refuses an out of court settlement, believing it is negligence that has condemned a young mother. Smelling a cover up, he instead takes the case and the entire legal system to court.
You will recall the five times OSCAR nominated Sidney Lumet film with Paul Newman, James Mason and Charlotte Rampling.
Ian Kelsey is known by millions for his regular roles in Blue Murder, Emmerdale, Casualty, Down To Earth, Where The Heart Is, Doctors and Coronation Street.  Denis Lill is best known for playing Alan Parry (father of Casandra) in Only Fools and Horses, as well as regular roles in The Royal, Rumpole Of The Bailey, The Regiment, Survivors and many more. They are joined by Paul Opacic (Bad Girls/Emmerdale/Hollyoaks), Christopher Ettridge (Goodnight Sweetheart), Richard Walsh (London's Burning), Karen Drury (Brookside), Josephine Rogers, Michael Lunney, Okon Jones, Anne Kavanagh, Holly Jackson Walters, James Morley, Jog Maher, Alexandra Fisher and Greg Fitch.
NEW! The Verdict script has now been published and is available from Josef Weinberger Ltd. CLICK HERE to purchase.




(