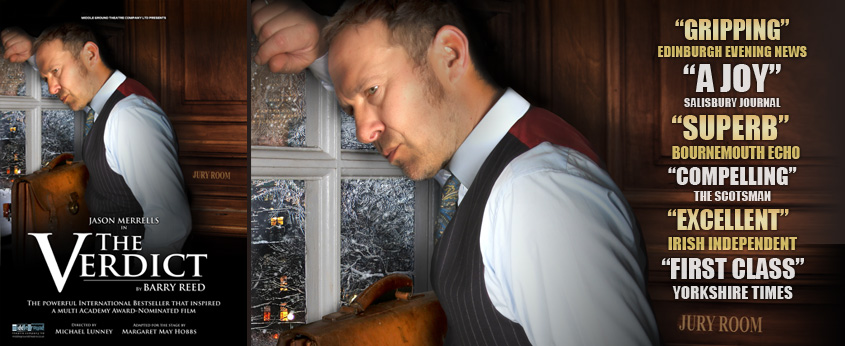 "This beautifully crafted, intelligent direction and fast-paced script rich in traditional storytelling methods to deliver maximum impact at crucial moments, resulting in an intense, absorbing and thoroughly satisfying production. ……As if adapting a cinematic behemoth for a new stage production wasn't a tricky enough task in its own right (and Middle Ground Theatre Co Ltd / Margaret May Hobbs have aced that task with startling aplomb), reinventing a character played on the big screen by iconic American actor Paul Newman must be a challenge to say the least. But Jason Merrells makes the role of Frank his very own with all the depth, fortitude and soul required to bring him to likable – and wholly convincing – life. 5 STARS ★★★★★"
THE BATH MAGAZINE

"The Verdict is one of the best touring productions of a play that I have seen for a long time.
A gripping courtroom drama. This world premiere adaptation by Margaret May Hobbs for Middle Ground Theatre Company is full of twists, turns and high drama. Brilliantly cast, constructed and directed by Michael Lunney. The Verdict is tense, powerful,moving and poignant at times……..The characterisations of every cast member are outstanding….The Verdict will have you gripped and on the edge of your seat to the final curtain and that's a rarity these days. 5 STARS ★★★★★"
YORKSHIRE POST
"If seamless casting is the quintessential ingredient of theatrical perfection, then Michael Lunney and Richard Walsh deserve a double accolade for being part of one of the finest pieces of drama I have seen in many a year.
Lunney is Director of The Verdict, Margaret May Hobs' superb stage adaptation of Barry Reed's novel of the same name, whilst his fellow casting director, Richard Walsh, doubles up as diocesan Bishop Brophy and 'holier than thou' Judge Eldredge Sweeney. But anchoring the play were the superb Jason Merrells as drunken, ambulance-chasing lawyer Frank Galvin, and his equally loveable sidekick, retired 75-year-old attorney at law, Vincent 'The Little Jew Boy' Pirillo, Moe Katz. Fantastic, both of them. The across-the-board Boston accents were faultless, there were no ill-timed pauses and the action kept you sitting on the edge of your seat with every passing minute. It is a mammoth part and Merrells had every opportunity to cock it up but he didn't. Just great. It is rare that I wax lyrical about something in such gushing tones and, indeed, so many mediocre plays grace our regional stages and few have me glued, or on the edge, of my seat. Not the case last night. When you see quality it really stands out. But, what impressed me most – as much as the individual performances – was the holistic, all-round quality of the performers who were so well cast. Each was a strong character: the beautiful but duplicitous Donna St Laurent played by Reanne Farley, posing as a bar tender but really an undercover legal mole for the defending legals; chief attorney for the defence, silver fox Nigel Barber as J. Edgar Concannon and, and and….too numerous to mention. But, if you were in this play, you all have my respect and I can only advise readers to take a look… enjoy one of the best plays of the year so far! The Verdict? Brilliant! Middle Ground Theatre Company: take a bow!! 5 STARS ★★★★★"
YORKSHIRE TIMES
"This is a world premiere production of Middle Ground Theatre Company and Margaret May Hobbs first stage adaptation of Barry Reed's novel, and it's a resounding success. Jason Merrells plays rank Galvin with assurance and skill, he holds the audience throughout… both convincing and moving and the audience want to applaud the verdict as much as the performance at the end…a triumphant conclusion…the entire cast are all accomplishe… the set design is very effective, a very authentic courtroom that looks and feels fantastic. This play offers a cracking evening's entertainment. The Verdict – A Success! 4.5 STARS ★★★★"
REVIEWS HUB
The second half in act two is set in the courtroom where we, the audience, are members of the jury. We also meet amongst other talents the ubiquitous defence attorney J Edgar Concannon (Nigel Barber), Judge Eldredge Sweeney (Richard Walsh) and Dr Rexford Towler (Jason Wilson). It's in the courtroom where Merrells really shines as Frank as he finds the inner strength to seek to achieve the impossible and takes us with him all the way.  Rarely do we get to see such engaging drama on stage and I urge you to get along to Malvern this week whilst you have opportunity. 5 STARS ★★★★★"
MALVERN OBSERVER
"The Jury is in – The Verdict is a First Class Night at the theatre….with an impressive cast and superbly staged…..and a second half courtroom performance that will leave you breathless. It really is a compelling watch…..spot on… superb."
SOUTHWALESLIFE.COM
"A riveting courtroom drama based on Barry Reed's 1980 novel…. Merrell's performance is truly compelling. He never lets up for a single moment, his every shot hitting the target with an unerring accuracy. Even the judge cannot escape his barbs. Elsewhere, Lynette Webster's choice of traditional music confirms the fact that Boston is very much an Irish city, and this provides regular and welcome interludes that neatly break up the intensity of the action.
And all the while, Michael Lunney's crisp and well-paced direction keeps us all guessing until the final moments. Written by Barry Reed, The Verdict must take its place in the finest traditions of legal dramas and the great courtroom epics of the past. It's warmly recommended and certainly not one to be missed. 4 STARS ★★★★"
WHATS ON WORCESTERSHIRE
"A day in court not to be missed….Jason Merrells is immense in the role of Galvin. He commands the stage and is thoroughly convincing as the crusading lawyer. The atmospheric set is wonderfully versatile…It is a very good performance by an ensemble cast…..fine acting….Richard Walsh shines as the briefcase carrying bishop and there are some fine cameo performances, including by Vincent Pirillo as Moe Katz…. a very impressive production."
BATH CHRONICLE
"The Verdict at The Mayflower Theatre is Nothing Less Than Faultless. Starring Happy Valley's Jason Merrells as Frank Galvin, a washed-up and often inebriated attorney-at-law, The Verdict brilliantly captures the claustrophobic suspense made famous in the 1982 Oscar-nominated film… Though the production clocks in on the long side at two hours and 40 minutes, every moment is more gripping than the last. The realistic performances of the ensemble cast – that features, Richard Walsh, Reanne Farley, and Nigel Barber, absorb the audience into the story – quite literally in the second act as members of the auditorium are presented as the jury. It says a lot that a play.. without the theatrics of a musical can envelop and entertain an audience quite as much as The Verdict, as the staging and execution from the cast is nothing less than faultless. From the lead role to a background actor, the cast is completely in sync with each other as there's always something to keep an eye on, as it's the small details and character quirks that make you forget you're watching a highly orchestrated show, rather than real life events playing out before your very eyes. As someone who is a huge fan of the highly regarded film starring Hollywood icon, Paul Newman, the stage production of The Verdict surpassed all expectations – finding the perfect balance of Reed's elaborate novel and the spectacle of the film version."
DAILY ECHO
"Margaret May Hobbs has created a gripping and compelling script which is hugely enjoyable.Jason Merrells holds the centre of the story with ease….hardly ever leaving the stage, Merrells gives Galvin an inner strength inspite of the task ahead of him. This is a strong and committed production, the many muli roles are defined with great skill. Directed and designed by Michael Lunney it is clearly a respectful and successful adaptation of the novel.Vincent Pirillo as Galvin's long standing mentor Moe Katz ensures the production is in safe hands. Holly Jackson Walters excellent cameo of Natalie Stampanatto is a poignant moment of true power."
BATH ECHO
"Jason Merrells plays a broken but talented lawyer in this rich, layered, gripping tale of redemption. 5 Stars."
BATH LIFE

"If you love classic courtroom drama, then The Verdict is probably one of the best that you'll ever see on stage. And those lucky enough to have tickets for the Middle Ground Theatre Company production at the Theatre Royal in Bath last week will surely testify. The plot crackles along at a fairly fast pace with all of the usual twists and turns that you might expect……..This stage adaptation is a first-rate production that should not be missed."
THE WILTSHIRE TIMES

"Both the Hobbs' script and Merrells' portrayal of Frank Galvin fire on all cylinders. Using the audience as the jury, surrounded by one of Michael Lunney's expertly designed and built sets, the tension and prejudices within the court trial develop realistically, until the audience feel the frustrations, and occasional sense of helplessness……Aiding Galvin is Vincent Pirillo's beautifully-judged mentor Moe Katz……see this polished production. 4 Stars ****"
BRISTOL POST

"This is a gripping courtroom drama with some fine acting and impressive set design…..the atsmosphere is thoroughly engaging, almost televisual.We are right there with the action…Jason Merrells is immense… it is a very impressive production for Middle Ground, with a big story to tell and every one of the cast is totally committed in this performance….a fine piece of theatre with high drama and emotion."
THE WESTERN DAILY PRESS

"I love these classic courtroom dramas, and Margaret May Hobbs's pacy adaptation of Barry Reed's 1980 novel, later a Paul Newman film, is up there with the best. But unlike those old TV series, the play is populated by credible, complex and varied characters, whose personalities are brought to life by a strong cast of 15 actors, headed by Jason Merrells as Galvin.
Emotional and persuasive, Merrells addresses the audience as if it were the jury, but wins as much plaudits for his chutzpah in brushing up Richard Walsh's judge Eldredge Sweeney exactly the wrong way. It's a meaty role that the actor really gets his teeth into, bringing out also the lawyer's own journey toward the moral high ground.
Facing him is Nigel Barber as J Edgar Concannon, a hot-shot lawyer who has long ago divorced judicial victory from justice, and who rips into a former nurse, played with great sensitivity by Holly Jackson Walters. Together, they generate an electrifying scene.
The subtlety of the writing is exemplified and enacted in the differentiated figures of the two doctors, Jason Wilson as an arrogant Towler, with the bedside manner of an irritated snake, Michael Lunney as the anaesthetist with an anaesthetised sense of shame.Vincent Pirillo as old lawyer Moe Katz, Reanne Farley as the obligatory 1980s floozie, Sarah Shelton as Debra Ann's mother ("I don't want revenge, I want to be able to pay the bills") and Okon Thompson as the expert witness all contribute to feeling one is watching an actual trial from the public gallery.
Michael Lunney has done an excellent job of tight direction and designing the ambitious set that switches with few hitches between office, Irish-American bar and courtroom."
BRITISH THEATRE GUIDE (MALVERN)

"There is no disputing the compelling power of a courtroom drama. Director Michael Lunney's production of Barry Reed's 1980 novel "The Verdict", initially turned into the 1982 Oscar-winning film starring Paul Newman, before being adapted for the stage by Margaret May Hobbs, is a gripping and redemptive tale…… The very recognisable and talented Jason Merrells excels as Frank Galvin who, whilst seeking justice for his client, faces his own personal demons of alcoholism and a failed marriage. He is a fundamentally flawed hero, yet Merrells breathes life, honesty and plausibility into this troubled character with a powerful and versatile performance in which he rarely leaves the stage.
This is an absorbing and engaging performance….an experienced supporting cast of fourteen actors combine in an impressive ensemble performance: Vincent Pirillo shows warmth and humour as Galvin's mentor Moe Katz, Reanne Farley is dynamic as the duplicitous femme fatale Donna, and Richard Walsh doubles up as the corrupt Bishop Brophy and the bigoted Judge Sweeney. Lunney himself stars as affable barman Eugene Meehan. Clever split-staging in Act One provides the twin halves of Galvin's world: his office (which we sense is also his home) and Meehan's Irish bar, before switching to a lavish wood-panelled courtroom in Act Two, where we are increasingly drawn into the rising tension as the play builds to its dramatic dénouement. 4 STARS ****"
STALK TALK MAGAZINE

"Merrells like the aging gunslinger in a 1950s black and white western, he waits for the final showdown that might redeem his reputation. And all the while he continues to drink in the Last Chance saloon… waiting, waiting. Jason Merrells as Galvin is a colossus, striding the floor of the courtroom, …….superb…supported by a strong and impressive cast.Merrell's performance is truly compelling. He never lets up for a single moment, his every shot hitting the target with an unerring accuracy. Even the judge cannot escape his barbs. Elsewhere, Lynette Webster's choice of traditional music confirms the fact that Boston is very much an Irish city, and this provides regular and welcome interludes that neatly break up the intensity of the action. And all the while, Michael Lunney's crisp and well-paced direction keeps us all guessing until the final moments. Written by Barry Reed, The Verdict must take its place in the finest traditions of legal dramas and the great courtroom epics of the past. It's warmly recommended and certainly not one to be missed."
SHOWTIME!

"As if adaptating a cinematic behemoth for a new stage production wasn't a tricky enough task in its own right (and Middle Ground Theatre Co Ltd / Margaret May Hobbs have aced that task with startling aplomb),reinventing a character played on the big screen by iconic American actor Paul Newman must be a challenge to say the least. But Jason Merrells makes the role of Frank his very own with all the depth, fortitude and soul required to bring him to likable – and wholly convincing – life."
THE BATH MAGAZINE
"Very Watchable Hollywood-brought-to-stage………..all elements of the successful and popular courtroom drama are here……the wonderfully acerbic, and luckily available, Lionel Thompson MD (a show-stealing performance from Okon Jones)."
BRITISH THEATRE GUIDE PLYMOUTH
"The Verdict at Oxford Playhouse……adapted for the stage by Margaret May Hobbs. She has done a fine job. Jason Merrells as Frank Galvin gives a fine central performance worth catching. He plays his character in a manner that is nuanced and extremely appealing while conveying the man's pain and self-destructive depressiveness…..but he has a conscience, he cares about justice…….there's a strong morality at the very core of his being.
As the story unfolds and we come to learn of the cynicism of his opposing attorney, J Edgar Concannon, solidly played by Nigel Barber almost as a fake but plausible Spencer Tracy type, we have much to ponder. We also have to consider the role of the Church. Richard Walsh conveys something of the venality and elitist sense of entitlement involved as Bishop Brophy. Vincent :Piirillo ha memorable moments of emotional warmth and comedy as Frank's aging mentor, Moe Katz; Okon Jones as the medical expert Lionel Thompson is a standout too and adds a layer about confronting racism and snobbery both.
In an era when we have become much more aware of corruption in the Church (for a start consider the film Spotlight, also set in Boston) and in medicine, this story is all even more telling as we watch it unfold. Sarah Shelton as the mother of the victim and Holly Jackson Walters as Natalie Stampanatto have particularly harrowing moments that touch the emotions; Reanne Farley plays her role as Donna St Laurent with convincing duplicity. The script is impactful, provocative intellectually and morally teasing. The actual stage craft was excellent and imaginative. I liked very much the direction and the designs by Michael Lunney……… the surprise plot twists were effective when they came. Altogether a satisfying evening of theatre that was also thought provoking, moving and memorable."
PLAYS TO SEE INTERNATIONAL THEATRE REVIEWS
"The stage premiere production of the famous courtroom drama, directed and designed expertly by Michael Lunney…. Margaret May Hobbs has adapted this story superbly for the stage…. it really was 'gripping' stuff….The acting was astounding, with Jason Merrells delivering a towering performance in the lead role of Frank Galvin, a washed up veteran lawyer…… Frank is most certainly a flawed character, but right from the outset, Merrells almost forces us to root for him, with his likeability and energy, not to mention passion for the case….Different leading characters are also slowly introduced, including the excellent Reanne Farley as Donna St Laurent, our protagonist's love interest. Nigel Barber also gives a brilliantly calculating and wily performance as the attorney representing the defence. There were even some actors who had to contend with multi-rolling. Without reading this in the programme, I would defy any audience member to know, such was the ability of Richard Walsh and Michael Lunney in particular to distinguish between their dual roles.
Act Two mainly takes place in the courtroom. An impressive set, which cleverly situates the jury in the audience, so we are addressed directly throughout the trial. This really raises the stakes and puts us at the heart of the action, almost as if we are going to have to deliver the verdict ourselves… There were twists, turns and surprises that elicited gasps, applause and even cheers from tonight's appreciative audience, which proved just how invested we had all become in the drama.
'The Verdict'– highly recommended."
WINCHESTER TODAY
"Middle Ground Theatre's production of The Verdict has profound gravitas….this production really shines…. Jason Merrells' performance as Frank Galvin triggers our imagination of the true horror of her reality….his determined but weary Frank Galvin does not hesitate in his endeavour for justice, despite every hurdle and stumble….. Vincent Pirillo as Moe Katz, Galvin's mentor, was a particular highlight. His earnest performance grounded and humanised the piece. Similarly, Nigel Barber's performance of rival lawyer Concannon was sophisticated and politely intimidating. The performances from Richard Walsh as both Bishop Brophy and Judge Eldredge Sweeney were a delight. Such a chameleon in his characters was he that I discovered only after the play was finished that he portrayed both characters. Nobody's guard was down – backgrounds were populated with engaged characters whose presence elevated and framed tense moments between the protagonists. Sticking with me in particular was the synergy of the courtroom scenes. Building on the tension crafted in first act, the desperation and frustration of the second act poured out from the stage. We gasped at each shocking revelation. The actors were unafraid of weighty silences and unafraid of raucous outbursts…
In a naturalistic production without large set pieces, the weighty production relies on the talents of its actors, and carry it they do. And as the audience we are judiciously guided through this tumultuous journey until the very end."
VOICE FM
"I saw the filmed adaptation in 1983. I remember at the time there was a queue of Hollywood's finest lining up for the lead role of Frank Galvin that included Roy Scheider, William Holden, Frank Sinatra, Cary Grant and Dustin Hoffman before the role was given to Paul Newman. Now the mantle has been handed to Jason Merrells who dons the guise of alcoholic Attorney Frank Galvin with absolute perfection. There is a very clever set design…. the courtroom setting of the second act which was perfect for the performance and is designed for audience retention and immersion. The audience are put in the place of the jury so when the actors speak, they speak to you. For me, that really worked and brought this theatre experience together, putting The Verdict above any other courtroom drama I have seen….. it is so much more, it is about people, what drives them and the fine lines between right and wrong. This story hangs on the believability of the characters and how they are portrayed. Producers of The Verdict, Middle Ground Theatre Company, really understand this and they have assembled one of the finest cast of actors that we have seen in these parts for many a year… This is a big cast and their interactions and chemistry add so much to something that could be just another courtroom drama. This is about people and what makes them tick and will give you food for thought for some weeks to come. As with both the book and the film, this stage adaptation has earned a special place for me among the best court dramas I have seen."
OVERTURES
"The Verdict, Margaret May Hobb's stage adaption currently at the Mayflower Theatre, takes you to a snowy Boston, where you will experience an intense courtroom drama…. There are magnificent dialogues…. magnificent sets…Director and designer Michael Lunney completely captured the poignancy of this play, riveting the audience, who felt summoned to be the deciding jury. Middle Ground Theatre Company gathered a wonderfully skilful cast for this play….. all the cast contributed to making it an incredible show… My verdict is: you must go see it."
IN-COMMON.CO.UK
"he Verdict is one of those shows that seems to tick all of those boxes for crime fans that want an evening out where they can indulge their detective brains and try and work out how this courtroom drama will ultimately end… You follow Frank Galvin (Jason Merrells) as he struggles with drinking, his personal life, and juggling his work… The second act opened in the courtroom as you see the case unfold. You watch as the characters true colours are shown, and the secrets that have been hidden explode in a dramatic climax. It was honestly one of the most engaging and compelling second act's I've seen in a long time and I was sat on the edge of my seat throughout. …The stamina Jason Merrells had to play this commanding lead role is incredible and I'm always in complete admiration of actors that seem to spend 90% of the play on stage and are able to manoeuvre the plot with ease. Reanne Farley was incredible as Donna St Laurent, the femme fatale that works behind the bar of Meehan's and tries to win over the heart of Galvin. I loved Vincent Pirillo as Moe Katz and felt his portrayal of the older mentor to Galvin brilliant. With the perfect blend of comedic timing and sincerity, he fully won me over in his role. All the actors on stage allowed this story to flow and grow in a way that had the audience hooked. What started as a wonderfully sleepy courtroom drama unfolds into a dramatic tale of justice as we explore the moral compass of the law and the true cost of medical malpractice in this edge of your seat play."
EYESONSTAGE.CO.UK
"If you like courtroom drama then The Verdict is a show for you. Originally written as a novel by American lawyer Barry Reed in 1980 it was adapted for film and then later to a stage production and it doesn't disappoint in the slightest…… It's incredible to see the story unfold… twists and turns along the way and the audience on the night that I went were engaged they audibly gasped at some of the plot turns….. I recommend you come along and see the show to find out what The Verdict is…" 4.5 STARS ★★★★
WHATSGOODTODO.CO.UK
"The drama of the courtroom had the audience transfixed as a brilliant tale of law and order swept across the stage in The Verdict…. Featuring Jason Merrells, The Verdict was a phenomenal example of theatre and the cast impressively delivered a gripping tale of a washed up attorney on a mission to prove the malpractice of a hospital after a 'routine' birth resulted in a woman being left in a coma…. Jason Merrells was superb in his role as a drunk lawyer, Frank Galvin.
This flawless play, centred around redemption and growth, was delicately crafted to create an outstanding show with exquisite casting who followed a fast paced script full of legal jargon….Set in Boston in 1980, the cast had to maintain a thick American accent and they all did so impeccably. Merrells proved that he was deserving to be on the stage by continuously wowing the audience with his ability to captivate the audience through his acting – instead of relying on big budget effects….Mrs McDaid, played Sarah Shelton, is the mother of Deborah Ann who ended up in a vegetative state, and her emotional character made the audience sympathise with her situation. His side-kick, Moe Katz, played by Vincent Pirillo, was remarkable and his kindhearted nature towards Galvin made him quickly become one of the favourites in the show. Reanne Farley, who played the stunning Donna St Laurent, was a brilliant casting choice and she did a wonderful job in maintaining her character throughout all of the peaks, troughs and twists in the storyline….
The play was outstanding and it definitely sits on the recommendation list"
PORTSMOUTH.CO.UK
"The Verdict is a remarkable production that has just got it right…. The audience becomes the jury which is just a brilliant way to deliver a court case. It feels like you are right there, experiencing emotions running high and the drama first-hand. Completely immersed in the story, I found myself wanting to cheer and boo along with what was going on, desperate to find out the jury's decision. The storyline is fast-paced, intense and gripping, complimented by an absolutely fantastic cast…. Jason Merrells is brilliant as the cheeky and dangerously clever Mr Galvin. The character is completely natural to him, I can't imagine anyone else playing the part. Moe Katz (Vincent Pirillo), Frank's mentor and partner in the case, is a wonderful part of the story, his love for Frank clear and involvement in the case crucial. Edgar Concannon (Nigel Barber) is excellent in his role representing the defence, a subtle but devilish demeanour revealing him the villain of the night. And Donna St Laurent (Reanne Farley), waitress at Frank's local, is just exquisite as the female lead, quickly making an impression on Frank but with her own agenda. If you enjoy the mystery and drama of a good court story, The Verdict is a must-watch." 5 STARS ★★★★★
FAIRY POWERED PRODUCTIONS
The Verdict – a guilty pleasure arrives at the Alhambra, Bradford Jason Merrells leads a strong cast in The Verdict, a gripping and enthralling drama Catch it at the Bradford Alhambra…..The Verdict is at times funny, definitely warm and slightly heart-breaking but above all it is about the underdog seeking redemption. After seeing the show my verdict is that this a compelling drama that I could easily recommend. Thrilling stuff indeed!"
YORKSHIRE BY LINES
"Barry Reed's book and David Mamet's screenplay aren't exactly the fastest paced stories to follow (especially not in the beginning), and one thing a play ideally needs to be is fast paced to keep that audience engagement. Margaret May Hobbs, who adapted the story for the stage, has done an incredible job at doing just this! Something that I was really impressed by was the overall energy from the cast, especially when the subjects they are talking about aren't exactly the most exciting. The cast have clearly worked very hard with the director, Michael Lunney (who is also part of the cast), to each understand their characters fully and bounce off of each other to keep that tempo up. It goes without saying the the role of the boozy Boston lawyer Frank Galvin, played by the well renowned Jason Merrells, was just perfection. Merrells'performance hit all the right beats…. From curtain up, we were with him the whole time taking in each and every word to fully help us understand not only the story, but his character… Fantastic! Nigel Barber who played the role of J. Edgar Concannon, the defence attorney to Galvin's plaintiff… was almost the 'bad-guy' of the play, which when acting is a very fine line between over-acting and becoming the pantomime villain, or under acting and completely throwing the power dynamic of the on stage battle. Barber walked that fine line perfectly and produced another fantastic note-worthy performance. Congratulations! I'd also like to give a special shoutout to Vincent Pirillo playing the role of Moe Katz, Galvin's law partner; he added a different dimension to the cast almost being the voice of reason….. Brilliant work all round from each and every member of the cast!…. The pièce de résistance is the courtroom (being a courtroom drama) and my hat goes off to all of the set and scenic art designers. They really brought Boston to Southampton……it actually felt like I was watching a movie, not a theatre production". Something I think I have never said in the theatre before!… The trial. My oh my was it good. The acting, mixed with the brilliant writing left the audience audibly gasping. You couldn't get much more up tempo than this… there were so many twists and turns that were so unexpected…..Superb! The stage adaptation of 'The Verdict' does incredibly well at getting a complex story across, making the audience feel invested and even feel apart of the story that they'd just experienced. You end up going through a full range of emotions and the whole cast and company have done a fantastic job in creating this captivating story live. 'The Verdict' has had a very successful run on tour and you can definitely see why! A massive congratulations to everybody involved – court is adjourned."
WINOL.CO.UK
"If you love a courtroom drama you will love The Verdict, a twisting tale that is captivating from the start. One of the best classic American court room dramas. This new adaptation by Margaret May Hobbs is enthralling and I preferred the play's ending over the famous 1982 Paul Newman film.
Jason Merrels portrays Galvin perfectly, his maverick character mixes dashing charm, wit and tardiness along with a caring passion of a once potentially great lawyer, demonstrating respect for his fellow friend and mentor Moe. Vincent Pirillo's authentic performance as Galvin's trusted partner is endearing. J. Edgar Concannon, played by Nigel Barbour, gives a commanding performance playing the intimidating lawyer perfectly. Directed and designed by Michael Lunney.The bar is classic Irish American, exactly like one would expect to find Frank Galvin propped up in. The courtroom scene in the second half is formidable….. The story is gripping, the acting superb and despite the heavy storyline there are welcome moments of levity. This performance is so absorbing you hardly notice (at over 70 minutes per act), this is a long play. Twists and turns make us gasp throughout, which compels us to give rapturous applause and cheers at the end."
YORKSHIRE MAGAZINE
"The absorbing and suspenseful play……under the direction of Michael Lunney, The Verdict kept The Oxford Playhouse audience gripped and entertained. This jury returned a very favourable verdict."
HENLEY STANDARD
"The Verdict – brilliant! There is a large cast for this production and all are excellent. There are several "ohhh" and gasps of shock moments that add to the audience enjoyment. A great production!"
NUMB BUM BLOG
"Margaret May Hobbs does Reed's source material justice, ably bringing to life this medical malpractice suit……..Middle Ground Theatre Co certainly deliver with an impressive design and a large quality ensemble of thoroughly convincing actors………co-founder of the company and responsible for both directing and aesthetics of this production Michael Lunney' sets are undoubtedly ambitious with remarkable attention to detail…..It is the second act however where Lunney really wows……..Compelling viewing? The Verdict's a resounding yes!"
WHARFDALE OBSERVER
"The audience was clearly gripped rom beginning to end and gasped audibly at the show's twists….if you enjoy a classic heroic tale or an impassioned courtroom drama, I'd say you're in for a treat."
DAILYINFO.CO.UK
"A theatre show about medical malpractice is not usually uplifting. However, The Verdict – showing at Derby Theatre – will challenge those understandable preconceptions to ease, shock and ultimately delight the audience.
Jason Merrells' portrayal of Galvin as a functioning alcoholic veteran lawyer is delicately nuanced and heartbreaking in equal measure. As an audience member, I sometimes forgot Galvin was reliant on alcohol, yet when a scene called for Galvin's sobriety to be questioned, Merrells delivered a sucker-punch of a performance…….he shines to deliver a memorable performance that will stay with you long after the curtain falls.
A rock solid supporting cast elevates the quality of this production that makes it a must-watch treat – because that is exactly what The Verdict is, a real celebration of acting talent and persuasive writing. Richard Walsh (London's Burning) as Bishop Brophy creates a steely character with a sinister edge. Reanne Farley (River City) is the glamorous love interest. Vincent Pirillo (Men in Black: International) gives a star turn as Galvin's mentor Moe Katz.. He also had some of the best lines that kept the audience laughing along with his cheeky chap humour.
Margaret May Hobbs, who adapted the film for this stage production, cleverly uses the audience in the grand finale as jury looking in, always silent, always considering both sides – and always thrilled.
As far as courtroom drama endings go, this is clutch-your-seat-with-white-knuckles territory.
It is also rare that a theatre show will inspire me to read the novel, watch the film adaptation and study the script.
When you watch Michael Lunney's The Verdict at Derby Theatre, you may fully appreciate this sentiment, such is the level of intensity and stellar acting on show. "
DERBYWORLD.CO.UK

"This wonderful piece of theatre….. It was just like watching a film, the production was that slick and you are left, hanging on to every word that Galvin utters. Merrell's performance here is hypnotic, and I didn't want the twenty-minute interval, I was eager to find out the truth of what happened and bring the case to a closure.
Debbie's mother is played by Sarah Shelton. Irish in descent but resident of Boston, Massachusettes. Lovely lilting accent and a lovely physical feel for the part….. we were treated to some beautiful Irish instrumental music, played by Lynette Webster.
Directed and designed by Michael Lunney…..it takes a Director who knows their stuff to keep the audience gripped to their seats, and that is what Lunney has done.The Set design is just as breath taking and gripping as the story and the acting…….. I was so pleased that I didn't see the film before this production because this version will now be the one that I remember. It is gripping, it is hypnotic, it is mesmeric, and I even held my breath when the verdict from the jury was requested.
A wonderful cast, a great story, a twist that I didn't see coming and a shame if you missed out on not seeing this spell binding production."
KEV CASTLE THEATRE REVIEWS

"Middle Ground have done a hugely impressive job….this is brilliantly staged, tautly written and exceptionally acted…..A gripping plot is whipped along by pacey direction and a slick script, and imbued with genuine tension, humour and pathos by a brilliant ensemble cast. The characterisation, acting and accents are all superb, but special mention must go to Jason Merrells whose portrayal of our flawed protagonist Frank, the loveable hero with feet of clay, is masterful and fully deserving of all the superlatives on the promotional materials. I also really enjoyed Richard Walsh as the supercilious Bishop Brophy and the irascible Judge…..Michael Lunney who not only plays two parts brilliantly also directs, his direction and Margaret May Hobbs' staging is dynamic and evocative of the mise- en- scene of downtown Boston, Massachusetts. An enjoyable evening of theatre and one to experience if you can."
LEFTLION.CO.UK

"Exciting, full of suspense and I loved it. Jason Merrells is outstanding as Frank Galvin, but overall, the acting was incredible and nothing short of gripping from every member of the cast."
ENTERTAINMENTSOUTHWALES.COM

"Jason Merrells delivers a captivating performance with a stage presence that had the whole theatre waiting on his every word…a truly impressive performance. A large cast of characters excellently performed…..phenomenal….impressive….an absolute must see."
THEDIFFDAFF.COM

"Despite the fact that a very successful film version, with a script by award-winning author David Mamet, was already in existence, Margaret May Hobbs unhesitatingly took on the task, coming up with a script that transfers the story to the stage in a very acceptable manner."
THE FINE TIMES RECORDER

"Riveting……The cast are all generally impressive…..but the real standout has to be Jason Merrells, whose likeability the success of this play really depends upon. His stint as the washed-up lawyer with a heart of gold could have read as tired or cliché, given how many times we've seen this trope before. But the warmth Merrells breaths into the character allows the moderately unlikable character of Frank Galvin to access the empathy he is warranted…….The twists – of which there are many – keep the audience engaged and on the edge of their seats. Four Stars"
IMPACTNOTTINGHAM.COM

"If you love a courtroom drama then The Verdict is probably one of the best….this is a cracking production of one of the most famous in the field…this new adaptation for stage by Margaret May Hobbs doesn't disappoint. This is a " no expense spared" production with a large cast of 17 that really bring this drama to life…. Jason Merrells' superb portrayal shows Galvin as a man just hanging in on the right side of drunk but once galvanised into action is determined to fight every inch of the way. He is well matched by Nigel Barber as defence attorney J Edgar Concannon – wily, clever and determined to win. They are well supported by the rest of the cast who flesh out the various characters of this intense and absorbing drama including Richard Walsh as both the Bishop and Judge Sweeney, Vincent Pirillo as Galvin's mentor Moe Katz and Teresa Jennings in the sensitive role of Nurse Rooney. The pace is good, the story cracks along with a few twists on the way and the audience on the night I went were so engaged they audibly gasped at some of the plot turns. This is a brilliant production of a first-rate story that should not be missed."
BRITISH THEATRE GUIDE

"An inspired choice to select Barry Reed's bestselling novel The Verdict for a stage treatment, and Margaret May Hobbs' adaptation is every bit as successful in dramatizing it as it as the well-known film version. Jason Merrells is a great piece of casting for Frank Galvin. He manages to combine world-weary shabbiness with an air of intrinsic dignity, and we cannot help but believe in his abilities from the outset. There are a number of fine supporting performances amongst the large cast, notably Jason Wilson and the director Michael Lunney as the accused doctors, and Richard Walsh who doubles up as the local Bishop, Father Brophy and as Judge Eldredge Sweeney."
GOODNEWSLIVERPOOL.CO.UK
"This is a slick production with a fantastic set design. The performances are outstanding, Jason Merrells practically inhabits Galvin, with a defiant swagger and pitch-perfect Boston accent. His affable, ageing mentor, Moe Katz, is played to charming perfection by Vincent Pirillo, with Richard Walsh doing a spectacular job in the dual roles of Bishop Brophy and the glowering judge Eldredge Sweeney. Okon Jones gives an outstanding performance as Lionel Thompson MD."
LEIGH-ON-SEA.COM

"The cast were superb, compelling the audience to listen to every detail. A magnificent performance from Jason Merrells, he did not put a foot wrong, commanding not only the courtroom but the audience as well. Reanne Farley also turned in a stellar performance as did Holly Jackson Walters in a short but unforgettable performance on the witness stand…………keeps you hooked until the final verdict……….you be hard pressed to find a better way to spend an evening……we absolutely loved it"
ITSONCARDIFF.CO.UK

"Middle Ground Theatre Company's enjoyable stage production of Reed's tense David and Goliath story….After the interval, the curtain lifts on an impressive courtroom set (designed by Michael Lunney who also, in an equally impressive feat of multitasking directs AND appears as a genial bar owner and an anaesthetist defendant, he deftly builds a sense of simmering tension in what becomes an unexpectedly gripping legal showdown.4 STARS"
ARTSCITYLIVERPOOL.COM

"A thought-provoking timeless courtroom drama and an absolute joy to watch. Moe Katz is played superbly by Vincent Pirillo….J Edgar Concannon splendidly depicted by Nigel Barber. FOUR STARS"
NORTHWESTEND.COM

"A stylish stage version of a stirring courtroom drama….heading the accomplished line-up is Jason Merrells who plays the character's drunken stupors to confident swaggers superbly and at times is reminiscent of Kevin Costner…… It's an enjoyable experience….a hugely entertaining drama. FOUR STAR"
WIRRALGLOBE.CO.UK

"Last night, I had the pleasure of attending Middle Ground Theatre Company's The Verdict at The New Theatre. The verdict's in on this one – it's a hit for old and new fans of the courtroom thriller…..entralled….heartbreaking… The Verdict had me on the edge of the seat."
QUENCH.COM

"Absolutely hooked me in right from the onset. A gripping edge of your seat production and performed spectacularly by the extremely talented Jason Merrells will not disappoint. A captivating and absorbing courtroom drama performed by a highly talented cast….special mention to Reanne Farley who is a delight to watch as she graces the stage. Perfection is just one word used to describe "The Verdict." 5 STARS"
SWITCHRADIO.CO.UK

"An engaging dynamic courtroom drama….Vincent Pirillo is lovely as exhausted mentor Moe Katz….Concannon, the voice of defence played flawlessly by Nigel Barber, the rest of the cast some of whom play multiple roles – are equally convincing…the soundscape is wonderfully vivid…Michael Lunney's set and direction is fab….the cast keep the audience on the edge of their seats 4 STARS"
EASTMIDLANDSTHEATRE.COM

" Jason Merrells' superb acting……authentic scenery and excellent acting……there are some strong female protagonists played by Reanne Farley, Holly Jackson Walters and Sarah Shelton, who in the second act strongly show the power of women and how the case wouldn't be the same without them! 4 STARS"
THEATREANDTONIC.COM

"The play is full of dramatic twists and turns and is captivating throughout….there is subtle humour throughout….the staging is impressive and detailed…the cast is made up of a group of incredibly talented actors. Jason Merrells plays Frank Galvin and his performance is outstanding. I would recommend that you go to see it if you can. I promise you will not be disappointed."
THEATREONLINE.CO.UK

"Jason Merrells has a lot to take on with Galvin's path from struggling, disheveled, half-drunk lawyer to the eloquent, passionate persuader he becomes. It's a huge part and one that needs a balance of sensitivity and authority. Despite the characters's flaws, the audience must have sympathy with him, even warm to him. Merrells achieves all of this in a truthful, powerhouse performance.
Vincent Pirillo has a lot of the play's lighter moments as Franks right hand man, Moe Katz and offers some stability in the chaos of Frank's world.
A strong performance too from Nigel Barber as the Prosecuting Lawyer, Edward Concannon, exuding an effective mix of charm and menace throughout.
Richard Walsh wears two hats convincingly as Bishop Brophy and Judge Sweeney and Reanne Farley simmers as Donna St Laurent.
As plays become harder to sell amongst a diet of tribute bands and musicals, huge credit to Middle Ground for keeping the genre alive. Producer Michael Lunney not only directs, he is also acting in the play as well as designing it. If there was a theme tune, he'd probably sing it – such is his dedication to the cause.
Powerful, intense and engaging. Treat yourself and get a ticket. 4 STARS"
BEHIND THE ARRAS

"Middle Ground's impressive touring production, fine Boston sets… Ian Kelsey turns in a compelling performance as Galvin, with Denis Lill in fine form… Michael Lunney's production tells this grand, filmic story in some style, and keeps the audience enthralled throughout"
JOYCE McMILLAN, THE SCOTSMAN

"Gripping… A true ensemble piece, the sheer wealth of experience and talent on stage… that you can hear the proverbial pin drop as Kelsey delivers his emotionally charged summing up is a testament to the power of the piece."
LIAM RUDDEN, EDINBURGH EVENING NEWS
"THE VERDICT felt so authentic it took me back to the days as a Crown Court reporter. Ian Kelsey is totally believable as Frank Galvin…. his passion and emotional performance brought tears to my eyes on more than one occasion. It was fortunate that the ever welcome Denis Lill as Frank's mentor Moe Katz, is on hand to deliver the funny lines, which he does, as always with aplomb. Together with a sterling cast and some lilting Irish music from Lynette Webster, this beautifully presented and riveting play is another winner from the consistently satisfying Middle Ground Theatre Company in the capable hands of the multi-talented Michael Lunney."
UKTHEATRENETWORK.COM

"Ian Kelsey delivers an excellent performance, the star of the show is Denis Lill as Moe Katz, Frank's mentor, father figure and ex-partner. As the trial unfolds the tension is palpable…  get to The Gaiety, Dublin."
IRISH SUNDAY INDEPENDENT
"Ian Kelsey is superb… It's a powerful piece of theatre, a brilliant set and fine acting from a cast of fifteen actors."
BOURNEMOUTH ECHO

"Ian Kelsey's powerfully sympathetic performance as Frank gives us a David to believe in as he takes on the Goliath of the Catholic church. A drama that's truly absorbing and thought-provoking."
HEREFORD TIMES
"This World Stage Premiere of Barry Reed's gripping narrative is an absolute tour de force in the finest tradition of court room dramas. Clive Mantle strides the stage like some bedraggled, crumpled suited colossus. Thoroughly Entertaining."
WORCESTER NEWS
"Absolutely Unanimous verdict – it's a hit! A theatrical treat that is a near perfect and certainly powerful courtroom drama… utterly captivating."
BROMSGROVE ADVERTISER
"Margaret May Hobbs' adaptation of Barry Reed's novel deftly avoids all the courtroom clichés. A work of real sophistication……fabulous to watch. 4 STARS"
REVIEWSHUB
"The Verdict is absorbing from the start, with an easy pace that allows the characters to develop their potential. While the first act draws you in, the courtroom scene in the second act is an adversarial battle ground full of mounting tension. Point scoring, legal theatrics and personal betrayal build The Verdict into a satisfying conclusion. With a number of characters being Irish or of Irish descent, the violin score by Lynette Webster, with its traditional airs, makes unusual yet enchanting musical links between the scenes. It would be good to see more such productions…."
PLYMOUTH HERALD

"The casting of this play is perfection. A sixteen strong cast could not be better chosen in their respective roles. It really is a dream team. The diverse and extraordinary talented Clive Mantle…… excellent execution of this highly intelligent script…… with award winning actor Jack Shepherd offering a standout performance."
WOLVERHAMPTON EXPRESS & STAR
"Exceptional collection of performances. By some measure one of the finest acted productions in recent memory. ….a truly enviable line up of talent. It's a resolutely superlative cast that elevate an already compelling piece into something even bolder. The Verdict is an absorbing, rich and supremely confident slice of courtroom intrigue, the likes of which we sadly do not see enough of."
HALESOWEN NEWS
"The Verdict is a captivating American courtroom drama that will have you gripped. Mantle and Shepherd have a wonderful chemistry on stage which makes The Verdict a joy to watch…..thrilling."
SALISBURY JOURNAL
"This is live theatre at its very best. This powerful courtroom thriller hooks the audience in the first few seconds and holds them spellbound until the compelling finale."
DAILY ECHO
"A first-class performance… go and see The Verdict!"
YORKSHIRE TIMES
"Clive Mantle gives a towering performance in this simmering play…amongst the best examples of naturalistic acting I've ever seen at Theatre Severn. Middle Ground's stage production is equally well cast with Jack Shepherd and Peter Harding giving Mantle terrific support… It's a well thought out, intelligently written, cleverly produced and directed, and exceptionally well-acted play. In short, everything a good piece of theatre should be."
VIRTUAL SHROPSHIRE
"Works splendidly on every level. It is a slick, highly-entertaining two-hour fifty minutes… this is a first class drama on every count."
WIRRAL GLOBE
"A superbly acted courtroom drama"
MERSEYSIDER MAGAZINE
"Keeps the audience holding its breath… a great evening of theatre"
THE FINE TIMES RECORDER
"Gripping stuff!"
BRIGHTON ARGUS
"Fantastic …Possibly the best court room drama ever made. A must see!"
OXTED TODAY
"A masterful piece of theatre that grips its audiences throughout. It's a beautifully cast production….Clive Mantle turns in a tour de force performance. Enthralling theatre at its very best"
SARDINES MAGAZINE
"Compelling… Clive Mantle excels in the role of Galvin… strong performances from the main characters and large ensemble cast."
WESTERN MAIL
"Carefully measured, entertaining… an excellent production. 4.5 STARS"
THE LATEST MAGAZINE
"Leaves you on the edge of your seat…this was probably one of the best performances I had seen at the theatre. For a moment I even forgot I was watching a play and thought I was in an actual courtroom. Mantle and Shepherd are most definitely worth going to see if not for the heart-wrenching storyline itself!"
QUENCH
"This play adaptation of The Verdict proved that courtroom dramas are as intense on stage as they are on screen and every bit as captivating"
ART SCENE IN WALES

"Brilliant… gripping stuff. FIVE STARS"
BISHOP FM
"Everything you would expect from a gritty courtroom drama… you can hear gasps from the audience as each twist in the plot is unveiled"
DELUXE MAGAZINE
"This is the most gripping courtroom drama with a brilliant storyline and wonderfully flawed but fabulous characters played by a tip-top cast of well-known actors. FIVE STARS"
BEHINDTHEARRAS.COM
"Ian Kelsey will get all the plaudits  for this play, and they will be well deserved, but the supporting cast in THE VERDICT is an especially strong one and should not be overlooked. Dr Towler was performed beautifully by Paul Opacic with just the right level of arrogance in his manner. Richard Walsh  delivers two outstanding performances which are completely different as both Bishop Brophy and the Judge, Michael Lunney is unrecognisable as the amiable Irish bartender and then the odious Dr Crowley and Holly Jackson Walters' performance pulled at your heartstrings and you believed every word she uttered… you will be thrilled and entertained by this compelling courtroom drama which has made a successful transfer to the stage"
IMBLATHERINGNOW.COM
"Ian Kelsey's impressive performance as Frank Galvin and the chemistry he shares with Denis Lill as his "Guardian Angel" Moe Katz and the adroit direction of Michael Lunney… a hugely enjoyable and surprisingly funny courtroom drama invigorated by a sprightly Celtic score by Lynette Webster"
REVIEWSPHERE.ORG
"Director Michael Lunney has created a slick production, the moral dilemma at the story's heart is compelling. Josephine Rogers shines as mysterious Donna St Laurent and Denis Lill as marvellous Moe Katz. I can't deny that I am engrossed throughout, and this is a snappy engaging piece of work"
BOUQUETSBRICKBATS REVIEWS.COM
"Even in the crowded field of American courtroom dramas, THE VERDICT remains a frontrunner. So every credit that it should fall to Malvern-based Middle Ground Theatre Company to be the first to stage its adaptation. Ther's nothing middling about its large and accomplished cast, or the hefty stage design for a touring production. The acting is uniformly authentic throughout with soap star Ian Kelsey in the central role Frank Galvin, heading a cast of many other familiar TV faces. Every cameo role is given high definition by director and designer Michael Lunney. He founded Middle Ground just over 30 years ago and without their efforts a lot of UK theatre would be missing out on professional productions of such calibre"
BRITISH THEATRE GUIDE
"This utterly arresting stage production by the Middle Ground Theatre Co Ltd ticks all the right boxes. A true nail biter… this dramatic production is extremely well cast. Ian Kelsey and Denis Lill are superb, while Okon Jones reminds me of Morgan Freeman. A Highly competent production not to be missed. 5 STARS"
THEATRE-NEWS.COM
"It's no trial watching this stage version of THE VERDICT, in fact it's a real pleasure… Ian Kelsey is a well known face, a veteran of Emmerdale, Doctors and more, able to put bums on seats, his performance reminds us the reason he's on telly so much, isn't his leading man looks – he's a superb actor. The way he moves, dresses and drinks…this is a man worn down by life, a guy whose numbing himself to pain. Denis Lill is wonderful as Frank's mentor and former partner Moe Katz, he's the archetype wise cracking American Jew but, as essayed by Lill never a stereotype"
ALLEDINBURGHTHEATRE.COM
"There's much to admire in Margaret May Hobbs' adaptation… THE VERDICT is superbly paced and beautifully performed, honours the tradition of great legal dramas as one man goes up against overwhelming odds in his quest for truth……..you'll thoroughly enjoy THE VERDICT… multi-talented director and designer Michael Lunney captures with wonderful naturalism the Sam Spade griminess of Frank's world……..a naturalism that goes to inform many of the superbly rendered performances. Lynette Webster's score dominated by haunting arrangements of Irish songs, adds a touch of melancholy Bostonian Irishness"
THEARTSREVIEW.COM
"Middle Ground Theatre Co present an incredible rendition of Barry Reed's novel that is both memorable and utterly enthralling……Frank Galvin is played with impressive panache by Ian Kelsey…..the acting is strong throughout, with particularly memorable performances from Denis Lill as the Lawyer's ailing mentor and Paul Opacic as the arrogant and manipulative doctor…..The stage design's versatility is remarkable….. The Verdict is Exceptional. 5 STARS"
THEWEEREVIEW.COM
"A fine production of a classic courtroom drama, follows in the footsteps of other courtroom masterpieces such as "12 Angry Men" and "To Kill A Mocking Bird". Middle Ground Theatre Company's world premiere adaptation led superbly by Ian Kelsey who plays Frank Galvin…….an exciting set design….the cast of the show were the real highlight…..the brilliant Denis Lill…. for a thrilling and enjoyable evening out….. this highly competent production is not to be missed"
RADIOSUMMERHALLREVIEWS.CO.UK
"If the jury is out on whether to come and watch this show, then let us present to you a winning case as to why THE VERDICT is a must see performance. Whether in a leading or supporting role, each cast member stands out and makes a memorable impact….they are the ones who truly make the impact of this story so powerful….the staging of the play is very impressive"
VISITBLACKPOOL.COM
"Ian Kelsey portrayed the down in his luck ambulance chasing attorney superbly….you will not be disappointed by the supporting cast, Denis Lill as Frank's mentor was sensational. 4 STARS"
WHATSGOODTODO.COM
"The Verdict is a compelling courtroom drama, which combined with powerful performances, pulls the audience into its world, keeping us riveted to the final moment………special mention must go to Michael Lunney and Richard Walsh, who are double cast as Eugene Meehan and Dr Daniel Crowley, and Bishop Brophy and Eldredge Sweeney respectively. Through their performances and clever use of wigs and makeup, it was nigh impossible without glancing at the programme to tell they were the same person each time. Denis Lill as Moe Katz, Galvin's mentor, also steals every scene he's in. And Anne Kavanagh as Mrs McDaid, as the plaintiff's mother, gives a heart-wrenching performance. 4 STARS"
FAIRYPOWEREDPRODUCTIONS.com
""Ian Kelsey is in fine form, as the down on his luck lawyer, he is able to let Galvin's sense of truth shine through and it's wonderful to watch. Denis Lill as the wise cracking Moe Katz turns in a shining performance that sparkles with comedy wit. This is an all – star cast with a 17 strong company….. special mention must go to Richard Walsh who not only performs Bishop Brophy but delivers a stealthy turn as Judge Eldredge Sweeney with some brilliant comedy asides. Also worthy of credit is Holly Jackson Walters, her moment in the dock during ACTII is a moment of expertly delivered performance that leaves you feeling the pain she has suffered in revisiting old wounds. A winning evening of courtroom drama, a slow burn but ultimately leads to a thrilling conclusion. 4 STARS"
SCOTSGAYARTS.COM
"Frank Galvin played by Ian Kelsey performed heroically as the lead charcter……the responsibility sat well with Kelsey who moved from brooding alcoholic to revitalised defender of the underdog with a style and energy that was impressive…….Mrs McDaid played by Anne Kavanagh stole the show. Every time she was on stage she conveyed perfectly the angst, desperation and commitment to her daughter . The scene where she confronts Galvin…led to a collective intake of breath from the assembled audience……. The set was very impressive…. The incidental music provided by Lynette Webster lightened the mood and was the perfect addition to the overall production… Will good overcome evil? Get yourself a ticket and go and watch this masterpiece for yourself."
NUMBER9REVIEWS.BLOGSPOT.COM
"Set in the Irish enclave of Boston…the audience are immersed in a tale of meandering alibis and deception… each performer with shining charisma and/or excellent comedic approach.Holly Jackson Walters steals the show with her portrayal of Nurse Stampanatto – a paramountal figure in the courtroom proceedings. Her innocent disposition and naivety cause her to make a revelation which completely upheaves the case, sending it in a shocking twist. THE VERDICT is a thoroughly enjoyable piece of piece that turns a courtroom drama into a riveting story."
MEG.IE
"Last night's performance of "The Verdict" kept us all spellbound. I don't believe I have ever sat in such a quiet auditorium. You could have heard a pin drop while we all remained in silence listening to every word. …….It was a very balanced cast led magnificently by Ian Kelsey as the lawyer Frank Galvin, his performance was mesmerising, aided and abetted by Denis Lill playing Moe Katz, their extensive acting abilities shone through.
Paul Opacic, Christhopher Ettridge, Richard Walsh, Karen Drury and Anne Kavanagh all deserve a mention for their excellent performances. Michael Lunney not only had two parts, but he was also the Director and Designer and a co-founder of The Middle Ground Theatre Company who produced this excellent tour. I must watch out for future productions of the company. Plymouth Theatre Royal are to be congratulated for being part of this brilliant event. 5 STARS"
WHATSGOODTODO.COM
"Ian Kelsey gives a fine performance as the lawyer Frank Galvin,shambling, half-cut and a prey to his emotions, this is excellent work and in his summing up to the jury (the audience) he has everyone in the palm of his hand. As his hypochondriac friend and sidekick, Denis Lill shows just what a brilliant character actor he is….it is a joy to see such skill on display. Christopher Ettridge another seasoned performer, is also on top form as the defence barrister….There is good work too from Richard Walsh doubling as the bishop and the judge and an excellent cameo from Holly Jackson Walters.
Director Michael Lunney not only co-founded Middle Ground Theatre Co, but also directs and designed the play and found time to take on two roles- all power to him. Lunney crafts the tension well and, quite literally, you could have heard a pin drop in the final exposition, such was the atmosphere created…….quite superb. An excellent addition to the courtroom drama, "The Verdict" is given a first-rate production with performances to match. A tense, taut and satisfying piece of theatre. 4 STARS"
REVIEWSGATE.COM